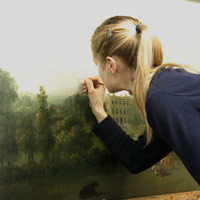 The Diploma in the Conservation of Easel Paintings is a three year course awarded by the University of Cambridge.
The course is open to students with a first degree in fine art, art history or the natural sciences. Candidates with other degrees will be considered if they can demonstrate that they have a particular aptitude for the field.
After graduation, students are expected to undertake at least a further year of study or internship in a conservation department in Britain or abroad in order to gain experience of different approaches to conservation problems.
Courses within the University of Cambridge are organised each year across three 8 week long terms. Unusually at Cambridge, terms at the Hamilton Kerr Institute are up to 15 weeks long and students are required to attend the Institute between 0900-1700 Monday to Friday every other week and 0900-1700 Monday to Thursday on alternate weeks.