During the lifetime of a painting its appearance can alter due to a number of influences. These chemical or physical changes may be as a result of changes in environment, the choice materials or technique used in the construction of the artwork or direct, physical intervention to alter the appearance. These changes become part of the history of the object and they are not always possible or desirable to subsequently remove. Digital reconstructions offer a risk-free way to offer alternative appearances of an artwork. They may be useful in informing the conservation process or to help explain the history of the object to an audience. Two such examples are shown below:
Thornham Parva
Having completed the restoration of the Thornham Parva Ratable we were asked to produce something that would show visitors to the church what the piece may have looked like in its contemporary setting. It is generally thought that the frontispiece piece currently in the Musée de Cluny, Paris, was originally part of the same altar and so we produced a view of what the two may have looked like, if they were together in a church today. Based on expert research, the scene has been recreated as authentically as possible to provide visitors with a clear idea of the object's original beauty. Part of the frontispiece was cut off and lost many years ago, so the missing section has also had to be recreated as part of the project.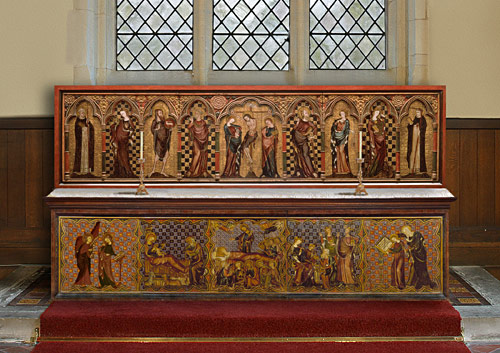 Digital reconstruction of the retable in-situ
Siciolante
During the course of their lives paintings may be modified to suit the situation of the day or at the whim of an owner. In this example it is thought that the arched section at the top of the painting was removed to enable it to fit a new location. This has dramatically altered the composition as have colour changes due to natural deterioration of the pigments used in the painting. We were asked to recreate the original appearance, based on expert research carried out of the artist's work, along with the techniques and design trends of the day. The finished image makes much more sense from an artistic perspective. The colour of the sky has also been returned to the most likely original colour based on information about the pigments known to have been used and their typical degradation over a long period of time.