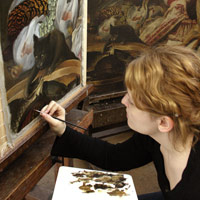 The Hamilton Kerr Institute is a leading centre for teaching and research in the conservation of fine art.
Diploma Course
The three year University of Cambridge post-graduate Diploma in the Conservation of Easel Paintings provides a combination of academic teaching and supervised studio work.
Internship Opportunities
The Institute also offers a number of 1 to 2 year internships to applicants who have completed a post-graduate painting conservation course. The internships enable individuals to gain further practical experience and also provide them with an opportunity to conduct research.